Pastaschelpen. Gekocht in een ander tijdperk en terug tegengekomen toen we in de strijd tegen een plaag meelmotten eindelijk alle zakjes droge bonen, rijst, en pasta die zich hadden verzameld in de keukenkasten in mooie, doorzichtige en vooral hermetisch afsluitbare potten staken. Alleen pakken zo'n schelpen best veel plaats in in die potten, en zijn er niet zo gek veel recepten om pastaschelpen te verwerken. Dus toen er in één van de Donderdag Veggiedag-nieuwsbrieven van EVA vzw een ovenschotel met pastaschelpen, spinazie, pesto en vegan bechamelsaus besloot ik om dat meteen te proberen!
Ik heb het recept lichtjes aangepast: de pesto maakte ik van radijsjesloof en pijnboompitten omdat ik dat allebei in huis had, en maar een beetje basilicum (dat loof-idee kwam ook van een EVA recept). Je kan het dus ook prima met basilicum of peterselie doen. De saus maakte ik met cashewnoten om het smeuïger te maken, ze zorgen er ook voor dat je saus minder 'opgaat' in de rest van het gerecht. Ik vulde ons restje pastaschelpen aan met wat diertjespasta voor de kinderen (die uiteraard vervolgens alleen de schelpen wilden) en gebruikte 400 gram spinazie ipv 200, omdat dat nu eenmaal de inhoud van een zak uit de winkel is en die anders blijft verleppen in de koelkast.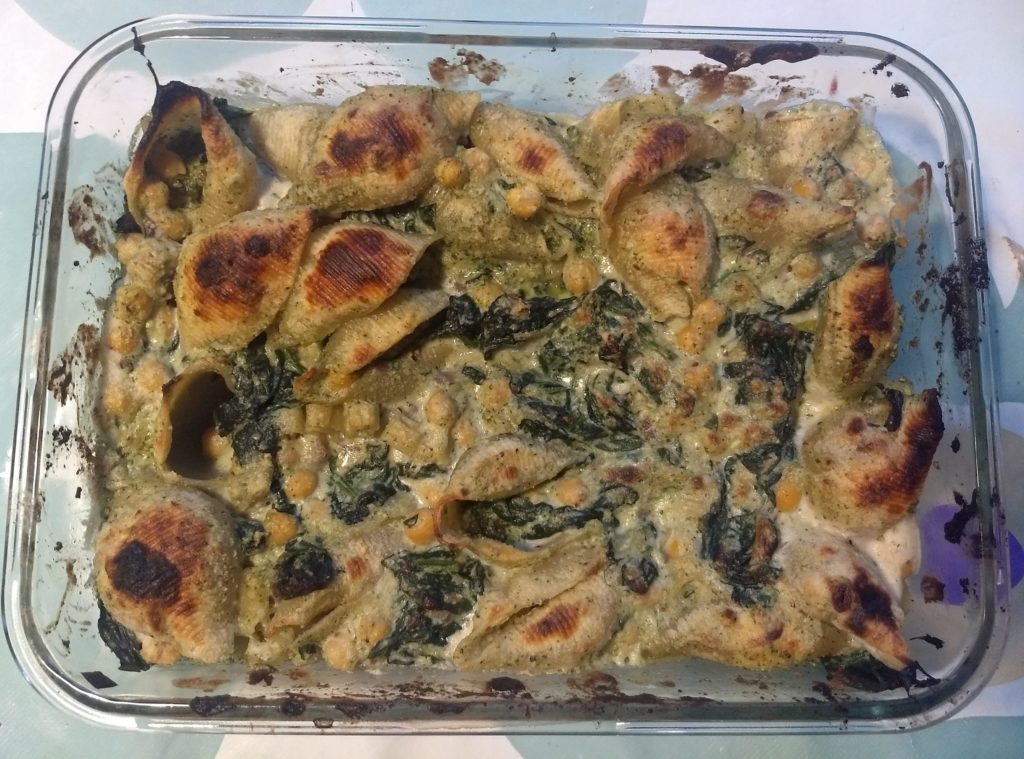 Ingrediënten voor een grote ovenschotel, 4-6 personen
– 300 gram pastaschelpen of andere vormpasta zoals penne, strikjes…
– 200-400 gram spinazie of andere bladgroente
– olijfolie
– 1 ui
– 1 teentje look
– een blik kikkererwten (400 gram)
voor de pesto:
– loof van een bussel radijzen, plus wat peterselie of basilicum (wat je in huis hebt)
– 1 teentje look
– 4 soeplepels pijnboompitten of blanke amandelen
– 100 ml olijfolie
– peper en zout
voor de kaassaus:
– 100 gram cashewnoten, 4-5 uur geweekt of 10 minuten gekookt in water en uitgelekt
– 300 ml ongezoete plantaardige melk (bv. amandel of haver)
– 2 tl maïzena
– 1 teen knoflook, gesnipperd of geperst
– 1 tl uienpoeder
– 1 eetlepel gistvlokken
– peper, zout en muskaatnoot
– optioneel: vegan gemalen kaas of Parmezaan
Benodigdheden: een grote (steel)pan met dikke bodem, een kleinere steelpan, een keukenrobot, een grote ovenschaal van 26 x 26 of 30 x 22
Bereiding

:

Kook de pastaschelpen al dente. Verwarm wat olijfolie in de steelpan, pel en snipper de ui en fruit in de olie tot hij glazig is. Plet en snipper de knoflook en voeg hem erbij. Voeg de spinazie erbij, zet het deksel erop en bak mee tot hij geslonken is.

Verwarm de oven voor op 180 °C.

Breng voor de kaassaus 150 ml melk aan de kook in de steelpan. Meng intussen de maïzena met 50 ml melk. Als de melk begint te koken, voeg je de maïzena en de knoflook, het uienpoeder en de gistvlokken toe. Laat nog 1 minuut doorkoken. Doe de uitgelekte cashewnoten in de keukenrobot met de rest van de melk en pureer tot een gladde pasta. Voeg bij de melksaus. Voeg eventueel een handje gemalen kaas toe. Breng flink op smaak met zout, peper en muskaatnoot.

Voor de pesto doe je de knoflook, pijnboompitten en loof/kruiden in de keukenrobot en maal ze fijn. Voeg de olijfolie geleidelijk toe tot je een smeuïge pesto hebt. Breng op smaak met zout.

Doe de pasta in de ovenschaal en meng de gebakken spinazie en kikkererwten eronder. Schep de pesto en kaassaus erover, zet in de oven en bak het gerecht 15 minuten. Eventueel kan je op het einde de grill nog even opzetten voor een lekker korstje.