Slapen jullie ook zo slecht? Fieuw zeg. Ik ben twee dagen geleden op de valreep naar de winkel gespurt voor een ventilator, want het was niet meer te doen in huis, alle gevelisolatie ten spijt. Heerlijk briesje naast het bed, helaas was het voor onze net-niet-tweejarige dochter óók veel te heet de voorbije nachten. Maar we houden de moed erin, want de temperaturen gaan morgen beginnen zakken! (slaakt diepe zucht). Voor het zover is, nog een verfrissend hittegolf recept, waarvoor je geen vuur of oven nodig hebt en dat in een handomdraai klaar is – ahja, want fut om iets ingewikkeld in elkaar te draaien hebben we ook niet meer. Ik geef u: watermeloen-feta-munt-olijven salade.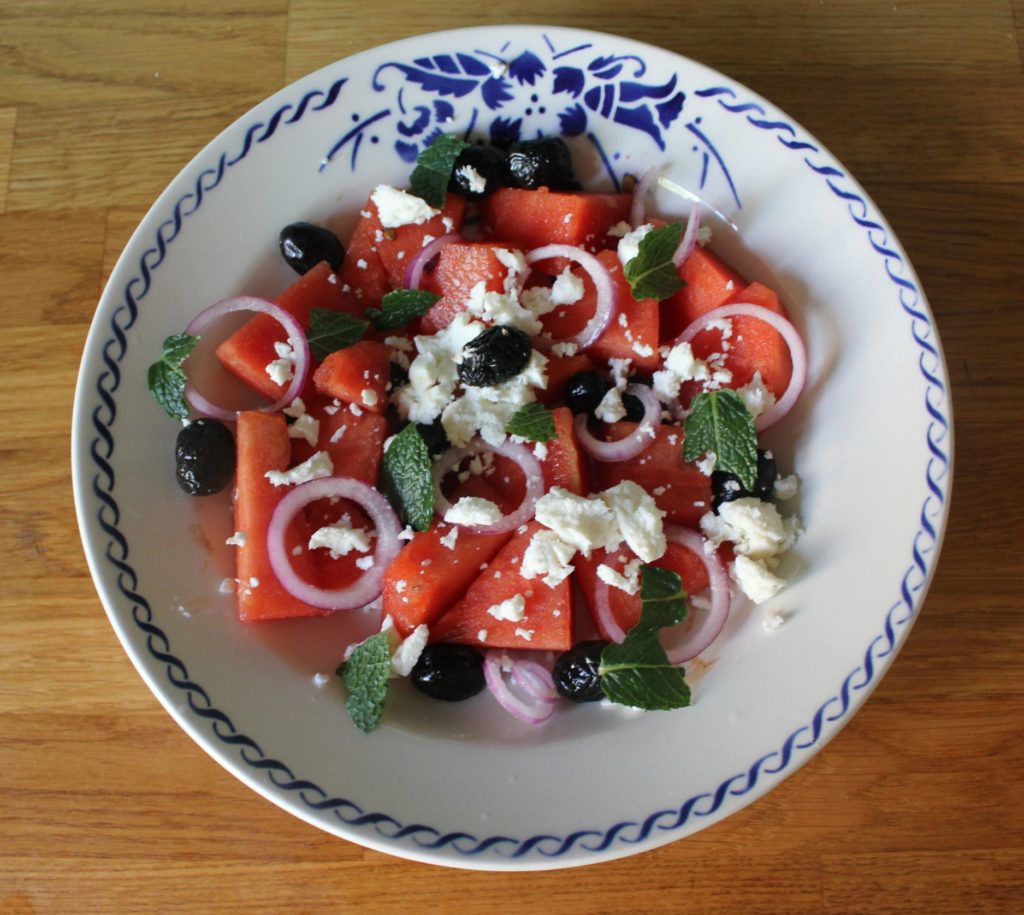 Ik vond dit recept voor het eerst bij Nigella Lawson, als ik me goed herinner. Het is ideaal in de zomer, want watermeloen is zowel eten als drinken. Je kan ook lekker variëren: de olijven weglaten voor wie dat niet lust, rucola toevoegen voor wie wat meer groen wilt. Watermeloen-feta-munt is wel de verfrissende ruggengraat van het recept die je best behoudt, al zou je het ook kunnen veganizen met feta van Violife.
Nigella is ook degene die me de truc met het limoensap leerde. Als je de ajuinringen minstens een half uur laat weken in limoensap (werkt wellicht ook met citroen) dan worden ze mooi felroze maar ook zachter en beter verteerbaar. Ik ben zo iemand die rauwe ajuin meestal uit Griekse salade vist of kebabventers op het hart drukt om geen ajuin in mijn broodje te doen omdat het op mijn maag blijft liggen (en omdat ik een ajuin-en-komkommer trauma heb van de laatste trimester zwangerschap, dat ook). Maar met deze truc lust ik het wel! Slim, toch?
(kleine disclaimer: op de foto is de limoen nog niet geweekt)
Ingrediënten voor een salade voor 3-4 personen, als lunch of als bijgerecht:
een rode ui
het sap van een limoen
een halve tot drie kwart kleine watermeloen
een twintigtal zwarte Kalamata olijven (de lekkerste die je kan vinden, ik ben fan van Père Olive. Olijven uit blik zijn hiervoor eigenlijk niet zo'n ideale keuze)
een half pakje feta
de blaadjes van enkele takjes munt
optioneel: rucola
peper en zout
Bereiding:
Snijd de ui in fijne ringen. Doe in een kommetje en besprenkel met het limoensap. Laat minstens een half uur weken.
Snijd de watermeloen in blokjes van 2-3 cm. Doe in een saladeschaal, schep er de olijven en de ajuinringen en eventueel de rucola door. Verkruimel de feta boven de salade en strooi er de muntblaadjes over. Breng op smaak met wat van het limoensap en eventueel wat peper. De feta en olijven zorgen al voor een zoute toets, dus check zeker eerst voor je er nog zout over strooit. Hydrateren maar!